Picasso 1/2
General Informations

Name

Pablo Picasso

Birth

25 October, 1881

Death

4 August, 1973

Movements

Cubism

Music

Amilcare Ponchielli (August 31, 1834 -- January 16, 1886) - Dance of the Hours
And here is the page dedicated to one most famous and influent painters of the history of art, Pablo Picasso.
Even if he is best known for his cubist works, he also left us a lot of works in other styles: before strucking upon Cubism, Picasso went through realism, caricature, Blue Period and Rose Period.
The Blue Period dates from 1901 to 1904 and is characterized by a predominantly blue palette and subjects focusing on outcasts, beggars, and prostitutes. This was when he also produced his first sculptures. The most poignant work of the style is La Vie (1903). which was
The Rose Period began around 1904 when Picasso's palette brightened, the paintings dominated by pinks and beiges, light blues, and roses. His subjects became saltimbanques, circus people, harlequins and clowns, all of whom seem to be mute and strangely inactive. One of the premier works of this period is in Washington, D.C., the National Gallery's large and extremely beautiful Family of Saltimbanques dating to 1905, which portrays a group of circus workers who appear alienated and incapable of communicating with each other, set in a one-dimensional space.
Analytic cubism was instead a style of painting that Picasso developed along with Georges Braque using monochrome brownish and neutral colors. Both artists took apart objects and "analyzed" them in terms of their shapes. "Les Demoiselles d'Avignon" is considered as a somekind of manifesto of Cubism.
Synthetic cubism was a further development of the genre, in which cut paper fragments, often wallpaper or portions of newspaper pages, were pasted into compositions, marking the first use of collage in fine art.
Selected Works
Created in memory of a great childhood friend, the Spanish poet Casagemas, who had committed suicide. The composition is stilted, the space compressed, the gestures stiff, and the tones predominantly blue.
The Blind Man's Meal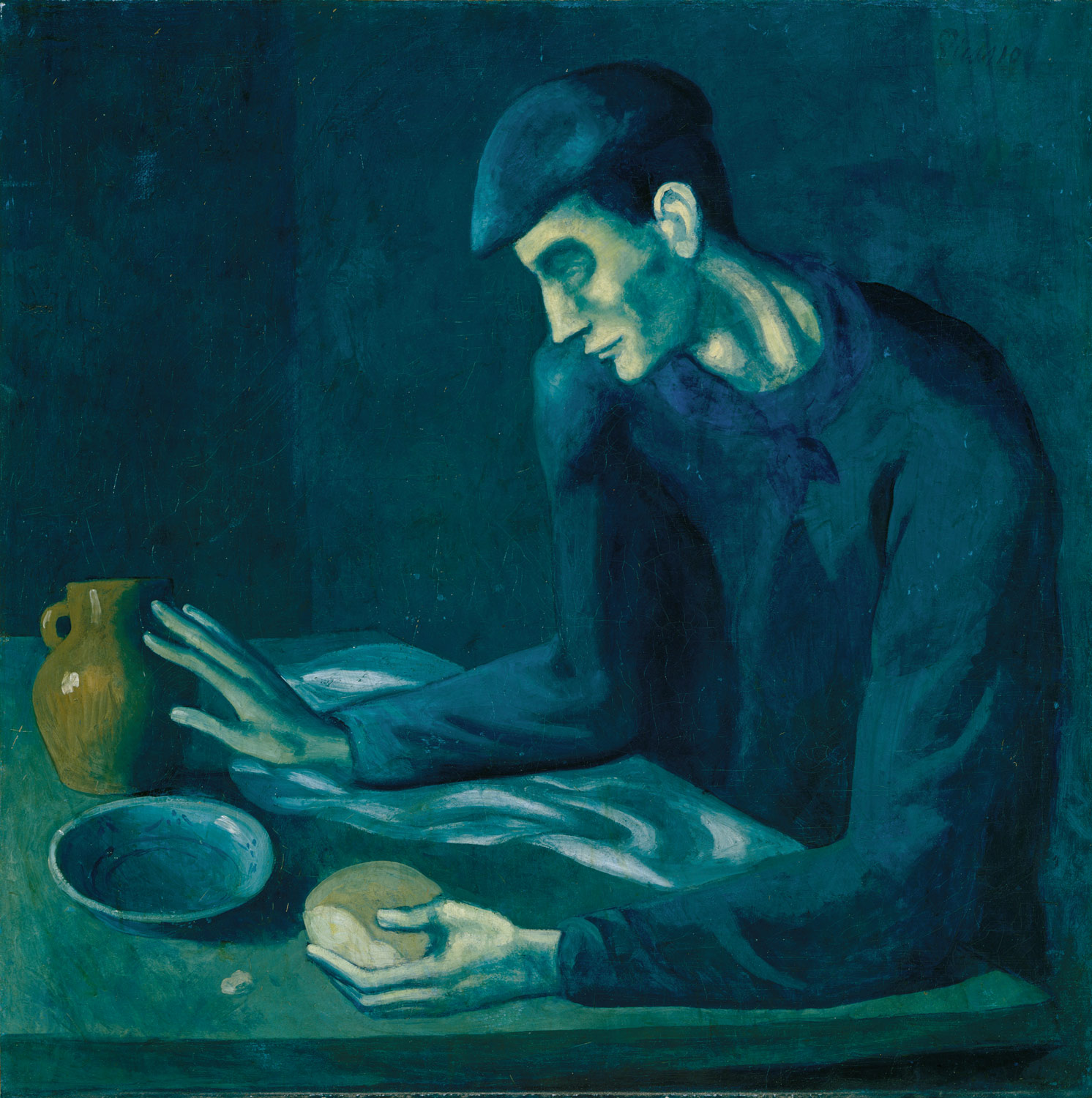 The manifesto of Cubism, the first painting of its kind, representing a scene inside one of the numerous brothels in Avigon. You can notice the influence of primitive African art in Picasso's painting on the bottom-right corner, where one of the woman is portrayed as an African mask.
Guernica
It was painted in response to the bombing of Guernica, a Basque city, by German and Italian warplanes at the behest of the Spanish Nationalist forces, on 26 April 1937, during the Spanish Civil War. The Spanish Republican government commissioned Pablo Picasso to create a large mural for the Spanish display at the Exposition Internationale des Arts et Techniques dans la Vie Moderne (1937).

Guernica shows the tragedies of war and the suffering it inflicts upon individuals, particularly innocent civilians. This work has gained a monumental status, becoming a perpetual reminder of the tragedies of war, an anti-war symbol, and an embodiment of peace. On completion Guernica was displayed around the world in a brief tour, becoming famous and widely acclaimed. This tour helped bring the Spanish Civil War to the world's attention.
A few words about the music...
Dance of the Hours is a ballet from the opera La Gioconda composed by Amilcare Ponchielli and first performed in 1876.

The ballet was used in the Walt Disney animated film Fantasia, albeit with ballet-dancing hippos (complete with tutus), ostriches, alligators and elephants.

Some of the orchestration was revised by conductor Leopold Stokowski.
It was also in one of Disney's older cartoon series, Silly Symphonies dated between 1929-1938.